Scientific R&D does not easily reach the professional environment of urban utilities. Many useful innovations and good ideas, with the potential to translate into effective gains, are lost to the fragmentation of research groups and projects.
The applications on Baseform are new and innovative from the technology viewpoint, but above all through the incorporation and development of good science and engineering in solutions that directly address water service processes from a clean slate, rather than adapting from generalist software notions.
What has been achieved with Baseform is a long-term R&D roadmap and roll-out strategy, connecting software development with the industry and a network of leading public research organizations. This has generated a strong sense of alignment in successive projects – and not least, essential funding – enabling a coherent line of solutions around some of the main engineering and management processes in urban water utilities.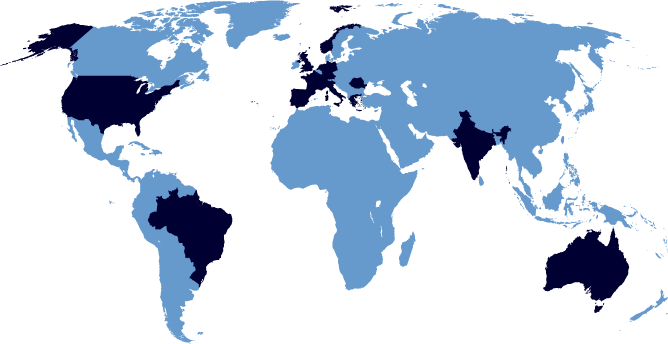 WERF/USEPA at Gwinnett County (GA, USA)
Under the sponsorship of the Water Environment Research Foundation (WERF) and the US Environmental Protection Agency (USEPA), the INFR5R12 project brings together GHD, LNEC, Addition and the Baseform development platform, in order to both test the current AWARE-P portfolio of tools in the US water utility context, and to develop new tools to specifically address the analysis of wastewater network failure risks. The program also aims to provide integration of the AWARE-P IAM methods with WERF's SIMPLE framework.
The project includes a thorough test of the AWARE-P software at Gwinnett County (GA) Department of Water Resources, a water, wastewater, stormwater and reused water utility serving over 900,000 in the Greater Atlanta area. Development of the new modules greatly benefits from Gwinnett County's experienced and forward-thinking AM team.(read more)
iPerdas (Portugal)
iPerdas is the National Initiative for the Management of Water & Energy Losses in water supply systems, an on-going collaborative project through which 16 water utilities develop water & energy losses management plan following a joint training and capacitation programme. The project is supported by a deployment of Baseform software, including new modules for water & energy balance audits and for flow analysis. (read more)
Sydney Water (Australia)
Sydney Water started a project applying the AWARE-P Suite of software to the planning of their asset management strategies for vertical assets, namely their large set of water treatment plants and wastewater treatment plants. Sydney Water's implementation of the AWARE-P methodology is groundbreaking in several ways, bringing together SW's leading experience in asset management, with the software's innovative approach and capabilities.
iGPI (Portugal)
iGPI, the National Infrastructure Asset Management Initiative is a collaborative program where 19 water service utilities develop strategic and tactical IAM plans with intensive use of the AWARE-P software. A dedicated deployment serves up Baseform's Aware-P tools to a large number of users developing their analyses privately within their project workgroups, or sharing and benchmarking with other teams. (read more)
TRUST (11 European countries)
Baseform supports the integrated development of a range of software tools in the 30-partner R&D project TRUST, started in 2011 and funded by the EU's 7th Framework-Program, looking to explore transition paths to the urban water services of the future. A project-wide software deployment is hosted for intensive testing by the research partners and by pilot utilities alike, and several new tools are growing on the baseform platform, as innovative ideas and validated methods from leading-edge R&D teams find their way into professional implementation.(read more)
Basin-P (Portugal)
The Portuguese Environmental Agency's national system for hydrological basin planning and monitoring is a fully customized development on baseform.org software.
The Agency develops and reports detailed basin plans to Water Information System for Europe (WISE), creating the need for tools to handle strategic monitoring at the national and hydrological basin levels.
Basin-P answered these needs by centralizing the monitoring of several programmes, defining a set of uniform criteria and indicators and also by providing the means for projecting and evaluating future scenarios.
Basin-P was developed under a partnership between Baseform, Addition and Chimp.
Aware-P (Portugal, Norway)
The AWARE-P project aimed at providing water and wastewater utilities with the know-how and tools needed for efficient decision-making in the scope of infrastructure asset management of urban water services.
The project, partially funded by EEA and by the participating utilities, relied on a cross-disciplinary core team from LNEC, IST, Addition, Sintef and Ydreams, Portugal's water services regulator ERSAR, and the 4 visionary utility partners: AdP, AGS, SMAS de Oeiras-Amadora and Veolia Mafra. Many Baseform tools were born in AWARE-P.(read more)
FACSA (Spain)
FACSA (Spain) is the water supply and wastewater utility of the Castellon region, serving 69 municipalities and a combined population of 870.000. Baseform's AWARE-P is the software backing FACSA's development of strategic and tactical infrastructure asset management plans, in a project that benefits from leading support from ITA, the urban water management group at the Universitat Politecnica de Valencia (Spain).
UDAL SAREAK (Spain)
UDAL SAREAK (Spain) supplies 61 municipalities in the Basque Country and a combined population of 211.456. With expertise from the University of the Basque Country (UPV-EHU), UDAL SAREAK is developing strategic and tactical infrastructure asset management plans based on Baseform's AWARE-P software.
SABESP (Brasil)
A corporate-specific deployment of the AWARE-P software, complete with user management, supports training in infrastructure asset management methodologies for water professionals at SABESP, S.Paulo (Brazil)'s water utility — one the world's largest — in the scope of a training programme promoted by the Brazilian Sanitary Engineering Association (ABES) and the International Water Association (IWA).
PAS (India)
India's PAS project, led by CEPT University and the All India Institute of Local Government (Mumbay) with support from the Bill & Melinda Gates Foundation, is the world's largest initiative dedicated to urban water service quality assessment through the use of performance indicators. It covers over 400 cities and a combined population of over 70 million in the states of Maharashtra and Gujurat. The latter is the setting for an AWARE-P app pilot and of a dedicated deployment of the PI app, in the framework of a collaboration between PAS, LNEC (Portugal) and the International Water Association (IWA).