01 Oct 2013
5th LESAM – Leading-Edge Strategic Asset Management 2013, 10-23 September, Sydney, Australia
The 5th edition of LESAM 2013 took place in Sydney, Australia, between the 10th and 12th of September. Researchers & academics, people from the utilities and consultants, as well as technology providers, were among the over 160 participants of the conference. This high quality of the attendees was reflected on the levels of the presentations, as well as on the discussions that followed. There was also an enthusiastic participation of young water professionals.
With keynote presentations, the iGPI team leaders - Helena Alegre e Sérgio Teixeira Coelho, presented an overview of the main project development and outcomes, including the AWARE-P infrastructure assessment management (IAM) planning software. Unlike in many other presentations, i.e., more focused on how to identify priorities of intervention; those regarding the Portuguese water utilities also made reference to what to do afterwards - i.e., how to explore rehabilitation interventions as an opportunity to improve the overall system performance.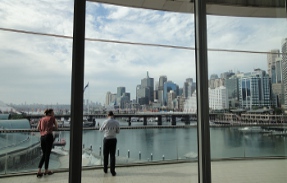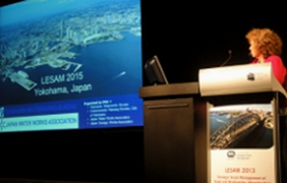 It was also important to have a good understanding of how IAM is dealt with in Australia - a leading-edge country with this regard, together with the opportunity to make a diagnosis out of the current situation and be able discuss the possible ways ahead. Overall, the conference take‑home message was the need to improve communication IAM in a broad sense: i.e., with customers, between decision levels, with policy makers, with society at broad, etc. More specifically, the conference was a good opportunity to share with others how the iGPI project is running in Portugal.