iGPI: a National Initiative for Infrastructure Asset Management
iGPI is a collaborative program set up by LNEC, IST and Addition (Baseform, from 2015), where a number of water service utilities develop strategic and tactical IAM plans with intensive use of Baseform's AWARE-P software (see AWARE-P project). A dedicated deployment serves up the Aware-P tools in a structured environment where a large number of users are able to develop their analyses privately within their project workgroups, or share and benchmark their results with other teams as needed.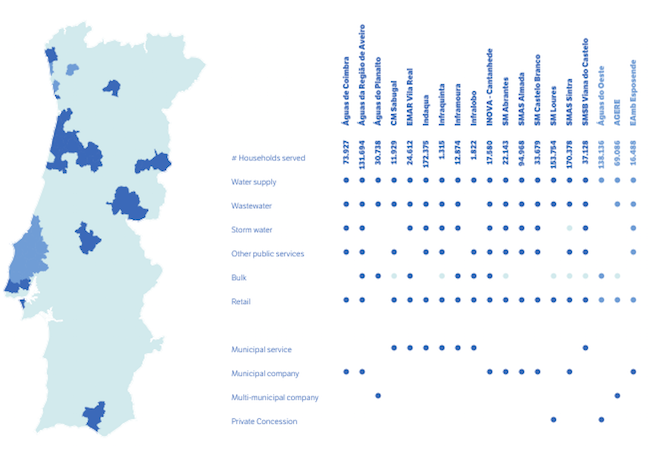 The 2013 edition of the program involved 19 utilities in Portugal (see above). The 2015 edition (Jan through Dec) involves 18 utilities in Portugal and Spain (below).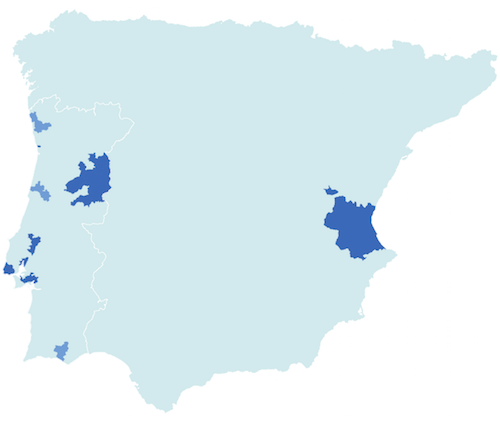 iGPI was launched to help broaden the impact of the AWARE-P project's products, and to reach out to utilities nationwide in a significant way. The project is led and coordinated by LNEC, who ensure training and technical development support to the participating utilities together with IST (Technical University of Lisbon) and Addition. The initiative utilizes a collaborative format pioneered by LNEC in the last decade, aimed at assisting a representative sample of utilities of diverse size and context develop their own IAM systems and plans through a joint training and capacitation program.
The project is not only an intensive user of Baseform's AWARE-P software, in a multi-stakeholder setup that tests its collaborative and technical qualities in everyday professional environments; it also contributes to its range of open-source tools and capabilities.
The water utilities that take part in the iGPI project range from 3,000 to 400,000 in population served, with a large diversity of scope (water, wastewater, storm water), institutional framework (e.g., municipal, inter-municipal, concession), organizational sophistication and IT maturity.