With WERF, USEPA and GHD, testing AWARE-P in a US utility
Under the sponsorship of the Water Environment Research Foundation (WERF) and the US Environmental Protection Agency (USEPA), project INFR5R12 "Visual Tool for Asset Management Performance, Risk and Cost Analysis" brings together GHD, LNEC, Addition and the Baseform development platform, in order to both test the AWARE-P portfolio of tools in the US water utility context, and to develop new tools to specifically address the analysis of wastewater network failure risks. The program also aimed to provide integration of the AWARE-P IAM methods with WERF's SIMPLE framework.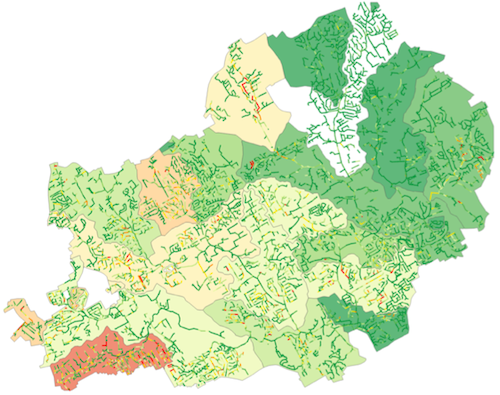 The project included a thorough test of the AWARE-P software at Gwinnett County (GA) Department of Water Resources, a water, wastewater, stormwater and reused water utility serving over 900,000 in the Greater Atlanta area. Development of the new modules greatly benefited from Gwinnett County's experienced and forward-thinking AM team.